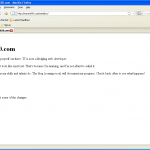 I know, it's easy enough to grab a pretty WordPress theme, slap it down on top of the 5-minute installation, and start adding content.  That won't teach me what I need, and want, to know.
For now, it's just basic HTML with little in the way of Zip, Zap, or Zing.  That will come with time.
One of the things I'll be doing here is showing periodic  snapshots of my home-grown template as it develops along with my skills.
Pull your hand away from your mouth, I can see the sneer.  I know what you are thinking.  Why would a web developer do this?  Wouldn't she want to show that she is capable of all the latest, flashiest, most cutting-edge stuff?
Maybe.
I'm doing this for a few reasons.
I'm proud of where I am.  True, I'm not Mr. CSS ( yet), but I know more than a lot of people who really need websites.  I want them to know that they don't have to be intimidated.
My work here might inspire someone you to start doing something you really love.  Maybe it's developing websites for people, maybe it's growing your own rutabagas.  Just do it.
I think it will be fun to look back on this in two years and see how things progressed.
Come back soon to check on my progress.