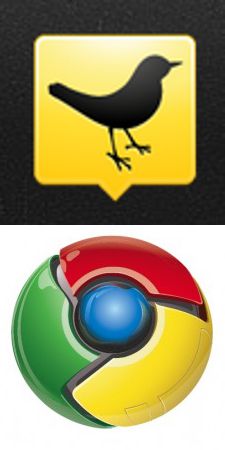 Many people are picky about how they interact with Twitter, and I'm plunked down firmly in the center of that camp.
My laptop (where my trusty TweetDeck desktop application is installed) died a couple days ago. I prefer a multi-column Twitter interface, so using the "New" Twitter web interface while I wait for my laptop to get fixed is not an option.
I'm generally not an early adopter, but this was a perfect excuse to try the new TweetDeck extension for Google's Chrome browser.
My Experience
The installation was straightforward, with a couple of mouse clicks it was up and running. To launch the application, just open a new (empty) browser tab and click the TweetDeck icon. I was a bit surprised that it didn't even prompt me for a userid or password. I suspect that it recognized my Twitter account because I sometimes use it to log in to other web services.
I didn't try the Facebook integration, but informal research (OK, I read a tweet about it) indicates that it's "tight."
The Good
The general compose box functions well. It makes it very easy to update from multiple Twitter accounts.
The reply box is embedded in the column above the tweet I'm responding to. Nice touch.
Ability to drag columns to reorder is helpful, but this still needs some refinement.
The automatic link shortening (using j.mp) is quick and smooth.
Detailed profile information is helpful, but lacks the thread view capabilities.
It has the same familiar charcoal background with light text. I like this color scheme but it's not for everyone.
The visual notification box is gone. This could be a pro or a con, depending on your preference. The desktop application gave you the ability to change its appearance, location on the screen, or just plain turn it off.
The Not-so Good
Like any new software, it isn't perfect. I suspect it will get better over time.
There is no button to view a conversation thread. I use this ALL THE TIME on the desktop app. This #FAIL may force me to Hootsuite until my laptop is fixed. @ToddWaller did point out that you can see a thread history when you reply to a tweet, but sometimes I just want to lurk.
Sometimes the background and screen flash while I'm typing in a compose box. This is quite annoying.
I couldn't find a way to pause or slow the main stream, even when I'm scrolled down. In the short time I used this, I clicked on the wrong link a few times as the target tweet slid out from under the cursor.
Where's the filter? This is another feature I use often on the desktop application.
Audible notifications are gone. In the desktop application I set them tell me about new @-mentions and direct messages. Without the pop-up notification window, this is even more important.
Customization ability is non-existent. The desktop application allows a lot of configuration options, update speed, accounts, notifications, link shortening, and more.
Conclusion
I'm not shy about admitting that I like TweetDeck. Their first effort at browser integration is a solid start. I'm not ready to switch, but it shows a lot of promise.
Have you used it? Let me know what you think.