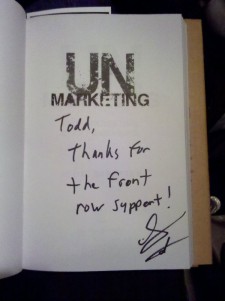 I wrote this a few weeks back because a friend asked for social media success stories. I hadn't planned to post this here, but I was inspired to do so after listening to
Scott Stratten
at a book signing earlier this week. I'm not a social media "expert," and I don't play one on TV. (I don't even watch TV.) Maybe somebody will get something from this, so here it is.
---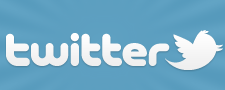 I took advantage of an unplanned week off in February 2009 to meet a friend at a tea shop on a late Thursday morning. I was working on a side project (long since put on hold) at the time, and I talked to my friend about it. Henry (@balanon) listened to what I was doing then said, "You should be on Twitter."
I created my account a few minutes later. I took a Twitter class at InSights Group a few days after that. I learned about "@-replies," RTs, #hashtags, how to connect my (non-smart) phone to my Twitter account, and how to use a few tools outside of Twitter.
I began by following the few people I knew on Twitter. Then I started following people my friends were talking with. Guess what? Some liked to complain, some were smart, some were funny, but they were all people. And they were interesting!
I broke away from the limitations of Twitter's web interface and started using other tools (I still like TweetDeck).
I attended my first #Tweetup, and I was hooked. Here were people who wanted to make new friends.
I shared my newly acquired Twitter addiction with a friend. I sat down with her for a few minutes and showed her some of the things I had learned. She played with it, and a few days later she said, "I see why you like Twitter. There are all these people, and they're right there, smiling at you!"
As of this writing (18 months after my first tweet), I follow 794 people and I have 1242 followers, but I don't measure success by these numbers.
Twitter has changed my life. No, I didn't gain 30,000 followers or become a millionaire, but my life is much richer for it.
How? Here are some ways that engaging people on Twitter has directly enhanced my life:
I have attended scores of Tweetups, Meetups, Eatups, and assorted gatherings.
I have seen at least five movies with a group of 5 or more other people.
I went on two Photo Walks.
Joined a couple of networking groups.
Found several people who can help me with hard-core technical aspects of my fledgling business.
Met a man who became my business coach for more than 6 months.
Attended Karaoke 3 or 4 times. And I liked it.
I found (and donated to) charities that I would not have known about otherwise.
Had a Skype conversation with someone around the world. Olivia gave me advice and I gave her material for her blog.
I found like-minded people to work on improving our sales skills.
Tweeps (friends) have sent me funny stuff to make me laugh when I had a bad day.
I have gone dancing.
Adding Foursquare to Twitter helped me meet friends for an unexpected drink on three occasions.
I have attended events at crowded bars and felt comfortable because I knew at least 20 of the people there.
The friendships I have made have challenged my thinking, broadened my horizons, and stretched my limits.
What is my "secret" for Twitter "success?"
Engage in conversation with other people. Read what they write, retweet things you find something funny, fantastic, or noteworthy, and reply to people. Jump into a conversation. People won't bite.
In short, do the same things you would do when meeting somebody new at a party. You won't mesh with everyone. That's OK. You will have more in common with some than with others. That's OK. You will follow some people who tweet three times then never log in again. That's OK. You will follow some people who tweet Way Too Much and create a separate column for them in TweetDeck. That's OK.
If you haven't tried it, give Twitter a chance. You might have to ask for help at first. That's OK. I did. I don't regret it.