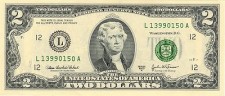 Do you remember when the $2 bill was reissued? My grandmother thought they were a big deal. In fact, I still have the one she gave me for my birthday, complete with a postage stamp and cancellation code showing it was one of the first run.
A lot of businesses wondered what to do with it. The drawers in the cash register were designed to hold bills in denominations of $1, $5, $10, and $20. Where would the $2 bill go? For whatever reason, the $2 bill did not become ubiquitous so it was never a problem. Now people just hide them under the tray with the coupons and the Benjamins.
Some WordPress users face a variation of this problem. A friend called me to ask, "I created some subpages on my site, but they don't show up in the menus at the top. How do I turn that on?"
I replied, "You can't." The theme he chose was never coded to support subpages. It doesn't have the "slots" necessary to display that information from the site database.
There are two ways to fix this.
Change your theme. Find and install another one that supports multiple levels of menus. Be careful, some only take one or two levels. If you aren't sure, test it before you commit.
Modify the existing theme. This requires some coding skills, and few people are equipped to try that. Depending on the theme and what is involved, it could take a couple of hours. If you choose this route, be prepared to pay a pro.
The lesson to be learned: Don't fall in love with a theme, free or otherwise, before you know whether it will handle a $2 bill.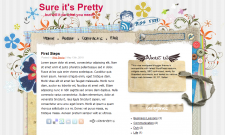 If you own a business, your website's first task is to leave a positive impression on visitors. A very, very close second is to explain how you can help.
An interior designer friend wanted a theme that matched her bubbly, quirky, colorful personality. She found one adorned with doodles, fabric, needlework, buttons, and color that met those criteria beautifully. One day she asked me for some help with her blog.
I pulled up her site. "That's cute. I like how you called your landing page 'Hmoe.'" I asked.
"What do you mean?" she replied.
"Look. Your first menu item is spelled 'H-m-o-e.'"
She looked, then cringed. "Where do I go to change that?"
I skipped through the dashboard to find that she had not misspelled something. I started digging into the theme, and I found several problems.
Lack of contrast. This had prompted the initial call for help. The page title didn't stand out, and the byline was lost in the beautiful but busy background.
The main navigation menu was hard-coded into the theme, but the user couldn't edit the links to the landing page. Hello, 404 error! The designer incorporated common page titles into the theme, probably in an effort to make things "easier" for the user. But what if you only have three pages, or name one something different, or blog in Spanish? The theme screamed creativity, then restricted the user blog in a tiny box.
The menu elements were also graphics, not text. Without the funky font the original designer used, there was no way I could fix the misspelled word and have it match the other items. As it turned out, I found an updated version of the theme that fixed the typo.
The default sidebar widgets had custom graphic headers. Adding user-defined widgets to the sidebar deleted those out. This obviated the need to try to match graphic text, but the new text didn't fit the rest of the theme.
Sharing options were built in to the theme. Again, this was a nice gesture by the designer, but it had limitations. What if your primary market is on a social network not included in the defaults? Without knowing code, the user can't change this. This is better handled by a plugin.
My friend is now on at least her second replacement theme. Time will tell how long that one lasts.
That's right, WordCamp Chicago is less than a month away, and I'm going. I'm excited for it. I haven't had a road trip in a while, and I'm going to have good geeky company for the drive. I'm looking forward to learning a lot and meeting new people.
That's all good, but I have a problem with their program. It's too good! Should I spend more time on the User Track in hopes of picking up a few more tidbits to share with my clients, or should I hammer the developer track to support my personal ambitions of WordPress domination?