I couldn't even hear the clippers.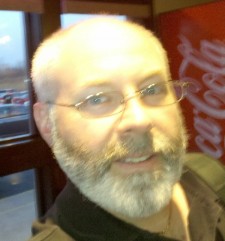 I wasn't deaf, I wasn't distracted, it was just LOUD at Uptown Grille, the host for the St. Baldrick's event. The place was packed for St. Patrick's Day! I understand that several people made good use of the crowded bar to raise more funds for children's cancer research.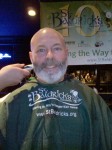 I arrived later than I wanted. I walked in feeling like a cross between Santa Claus (old with a white beard), Scrooge (grumpy), and Charlie Brown (a loser for falling far short of my goal of $1,000).
The organizer, Emily MacBeth, had recruited a sizable team to manage everything. Between the registration desk, shavers, photographers, silent auction managers, there was a lot to do. In a word, it was overwhelming!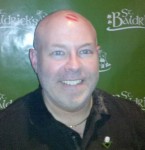 Even though the volunteers had been there several hours, they were cheerful, welcoming, and grateful. I can't count how many times I heard, "Thank you for doing this." I left feeling lighter (how much does hair weigh?), younger (no more white!), and like I made a difference (I raised about $400).
Will I do it again? I don't know. It's a worthy cause, but growing my beard wasn't fun. I have a few months to think about it. Maybe there will be stubble again in January.